Mocha Chocolate Cake in a Mug. Add the milk, vegetable oil and vanilla and stir until smooth, making sure there are no lumps of flour or cocoa in the bottom of the mug. Stir in sugar, flour, cocoa powder, coffee and egg until combined. In a small bowl, thoroughly combine the flour, baking powder, cocoa powder, espresso powder, sugar and salt.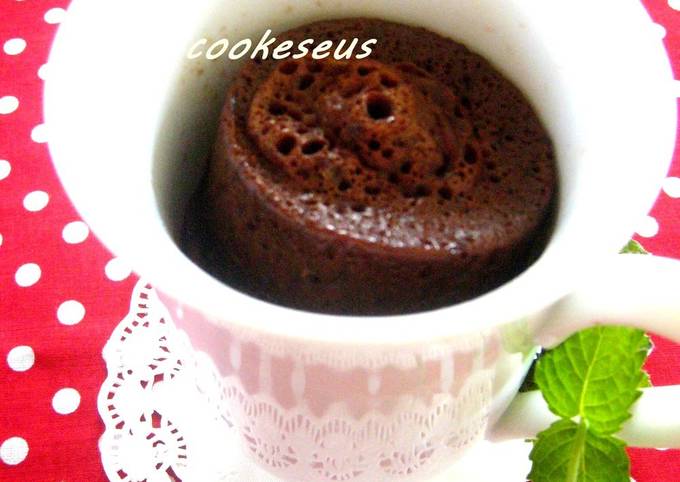 Stir in the instant coffee until fully dissolved. Stir in the vanilla extract and vanilla crème stevia. If you ever have a craving for Chocolate cake and you don't want to go out and buy a whole cake, or a mix and go. You can make Mocha Chocolate Cake in a Mug using 9 ingredients and 4 steps. Here is how you make that.
Ingredients of Mocha Chocolate Cake in a Mug
You need 2 tbsp of Cake flour.
It's 1/4 tsp of Baking powder.
It's 2 tbsp of Granulated sugar.
You need 1 tbsp of Unsweetened cocoa powder.
Prepare 1 tsp of Instant coffee.
Prepare 1 tbsp of Chocolate chips.
It's 1 of Egg (small).
You need 1 tbsp of Milk.
You need 1 tbsp of Canola oil.
Expert tips: Stir batter until lump-free – Using a spoon, stir the cake batter until smooth and no lumps remain. Mug – A standard size microwave coffee mug works for this recipe. Please do not choose a smaller one. Best eaten hot – Enjoy this cake HOT!
Mocha Chocolate Cake in a Mug step by step
Add all the ingredients into a mug cup or a bowl, and mix well. It will make a little bit more than 1/2 cup (100 ml) of batter..
Pour into a mug cup. (When you are mixing in the mg cup, you don't need to wash any dishes.).
Microwave for 2 minutes at 800 W. It will rise about 3 time as the original volume..
This is a cranberry & chocolate chip version.. https://cookpad.com/us/recipes/155856-microwave-cranberry-chocolate-cupcake-in-a-mug (see recipe).
Add plain flour, cocoa powder, baking powder and sugar into a mug and mix together until evenly distributed. Add milk, oil, vanilla and a generous tablespoon of chocolate chips into the mug and mix together until evenly distributed. Add an extra tablespoon of chocolate chips on top of the cake batter. Add flour, cacao, sugar, baking powder, salt, espresso powder, milk, oil, and vanilla to coffee mug or measuring cup. Whisk until ingredients are thoroughly combined.