Honey lemon pepper chicken. Easy Chicken Recipe Made With Lemon & Pepper Seasoning. Pepper And Lemon Mixed With Chicken Make For A Delicious Combination. Season the chicken liberally with salt, pepper, Sazon, lemon zest and garlic powder.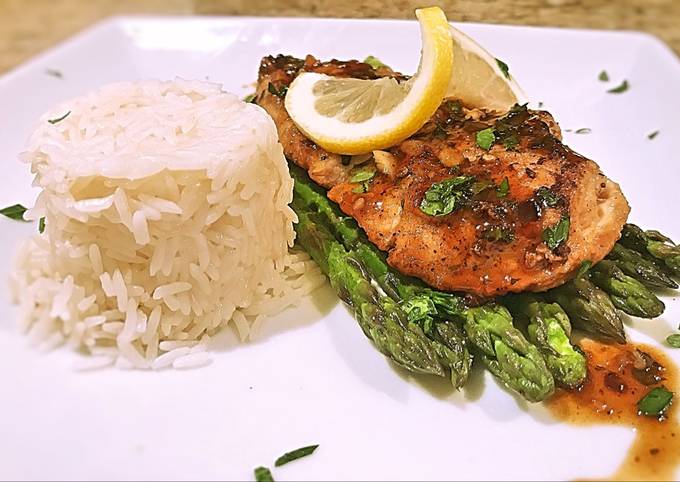 Season the chicken liberally with salt, pepper, Sazon, lemon zest and garlic powder. Allow the chicken to marinate for at least a half hour. Mix canola oil, lemon zest, lemon juice, Dijon mustard, honey, garlic, Worcestershire sauce, Italian herb seasoning, salt, and black pepper in a bowl; pour into a resealable plastic bag. You can make Honey lemon pepper chicken using 8 ingredients and 7 steps. Here is how you make that.
Ingredients of Honey lemon pepper chicken
You need 2 of chicken breast sliced in half.
Prepare 4 cups of chicken stock.
Prepare 4 tbsp of honey.
Prepare 1 tbsp of crushed red pepper.
You need 1 tsp of soy sauce.
It's 1/4 cup of lemon juice.
It's 2 of large garlic cloves minced.
It's of Flat leaf parsley minced.
Place chicken breasts into the bag, seal, and squeeze bag with your fingers several times to coat chicken with marinade. Pour warmed honey mixture over chicken and place lemon slices on top. Spoon juices from bottom of baking dish over chicken and lemon several times. Add salt and pepper to taste.
Honey lemon pepper chicken instructions
Season chicken with a dusting of salt, pepper, onion and garlic powder to taste on both sides and rub with flour.
Sear golden brown on both sides in butter and set aside.
Add chicken stock and simmer scraping the bits.
Add honey, lemon, garlic, soy and reduce.
Add chicken back to the pan and sprinkle parsley and baste the chicken.
Turn up the heat and reduce until thick and then add couple pats of butter and mix and let cool.
Serve with rice and lemon zested asparagus.
To serve, pour Sauce over the chicken and garnish with parsley and lemon slices if using. Cover and refrigerate the remaining marinade. Using long-handled tongs, moisten a paper towel with cooking oil and lightly coat the grill rack. In the same skillet, combine the green onion, lemon juice, sherry, Worcestershire sauce, mustard, lemon-pepper and remaining butter. In a medium sized skillet add the butter and allow to melt over medium high heat.