NO BAKE OREO TRUFFLES.. QUICK & EASY RECIPE!!!. Great recipe for NO BAKE OREO TRUFFLES. Simple, fool-proof recipe, love these Oreo truffles, bite size treat for any occasion!! Let the chocolate harden before enjoying, either at room temperature or by putting the truffles in the fridge for a quick method.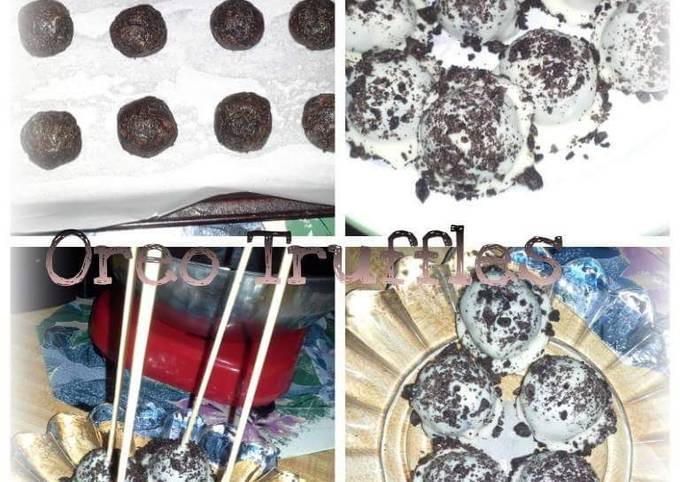 Pull the Oreo Truffles out of freezer, and dip into chocolate. Garnish with reserved Oreo crumbs before the chocolate sets up. Let chocolate set, refrigerate and enjoy! You can make NO BAKE OREO TRUFFLES.. QUICK & EASY RECIPE!!! using 3 ingredients and 6 steps. Here is how you achieve that.
Ingredients of NO BAKE OREO TRUFFLES.. QUICK & EASY RECIPE!!!
You need 1 packages of Double Stuf Oreos, Original will work fine as well..
Prepare 4 of to 8 oz of cream cheese. (depending on the consistency you like) *I used the 4 oz* 8 oz was a bit much for me, too creamy..
Prepare 1 of Dipping Chocolate.. I bought the one you can pop in the microwave(CandiQuik) and I also bought a 16 oz bag of Hershey White Chocolate.. they worked great!!.
Place Oreos and cream cheese in a food processor with the blade attachment and process until completely crushed and starting to ball up. Oreo Truffles are a real and serious thing my friends. They are everything you love about an Oreo cookie, all wrapped up in a round ball with a super secret ingredient that then gets dipped in chocolate. This dessert is perfect for Christmas, birthdays, gifts, and more!
NO BAKE OREO TRUFFLES.. QUICK & EASY RECIPE!!! instructions
1.)Chop Oreos up finely in a sandwich bag or food processor. Reserve some of the crushed Oreos for garnish..
2.)With your hands or a spoon, combine softened cream cheese and crushed Oreos until mixed well..
3.)Roll into 1" balls and place on a wax covered cookie sheet..
4.) Place in the freezer for 15-30 minutes ** you want your Oreo balls to be firm, and easy to work with when dipping them**.
5.)While oreo balls are in freezer, melt chocolate in the microwave or use a hot water bath over heat.
6.) Take the Oreo Balls out of freezer, and dip them into chocolate. Sprinkle with reserved Oreo crumbs before the chocolate sets..
When it is melted, dip each ball into the chocolate and place on the parchment to let set. Serve and enjoy: Top with crushed oreos if desired. Add cream cheese; mix until well blended. Dip balls in chocolate; place on wax paper-covered baking sheet. (Any leftover chocolate can be stored at room temperature for another use.) Sprinkle with reserved cookie crumbs. Use a food processor to crush cookies into fine crumbs.