Smoked Chicken Chimichangas.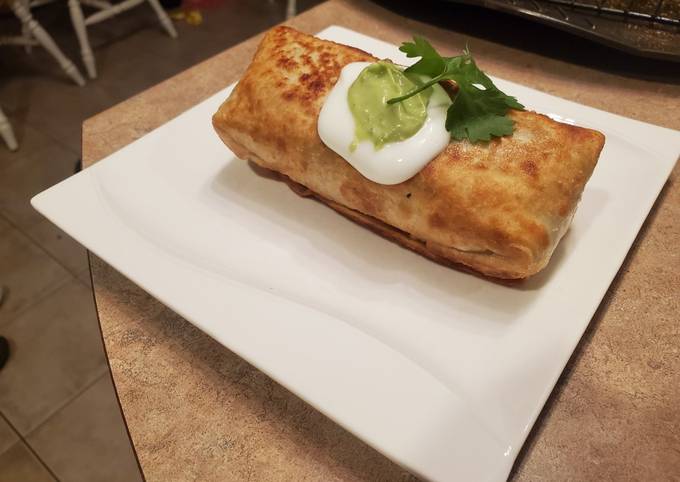 You can have Smoked Chicken Chimichangas using 24 ingredients and 11 steps. Here is how you make that.
Ingredients of Smoked Chicken Chimichangas
You need of Chicken Breast or Boneless Chicken Thighs.
It's 1 of thigh per wrap or 1/2 breast per wrap.
Prepare of Olive Oil.
You need 2 Tbsp of Smoked Paprika.
Prepare 1 Tbsp of Kosher Salt.
You need 1 Tbsp of Coarse Black Pepper.
It's 1 Tbsp of Onion Powder.
It's 1 Tbsp of Garlic Powder.
You need 1 Tbsp of Dried Oregano.
You need 1 Tbsp of Dried Thyme.
Prepare 1 Tbsp of Ground Mustard.
Prepare 1/2 Tbsp of Cayenne Pepper.
Prepare of Large White Flour Tortillas.
It's of Canola or Vegetable Oil for frying.
You need of Hickory Smoke Wood/Pellets.
Prepare of Cilantro leaves for garnish.
Prepare 1 of Lg Avocado.
Prepare 1/4 Cup of Sour Scream.
Prepare 2 Tbsp of Water.
It's of Juice of 1 Lime.
It's 1/2 of Jalepeno Pepper (de-seeded).
You need of Black Beans.
Prepare of Toothpicks.
Prepare of Shredded Monterey Jack Cheese.
Smoked Chicken Chimichangas instructions
Mix the smoked Paprika, oregano, thyme, salt, pepper, garlic & onion powder, ground mustard and cayenne pepper in a bowl.
Lay out chicken on a rack and lightly coat with olive oil. Then season with mix from step 1 (both sides).
Preheat smoker to 250°F or 130°C. Use Hickory wood/Pellets and smoke for 1 hour or until internal temperature of 160-165°F. Remove and rest for 10 minutes..
In a blender, mix the water, Avocado, jalapeno, pinch of salt and pepper, juice of 1 lime, 1 tsp garlic powder and sour cream. Blend until smooth. Add splashes of water to get desired consistency..
Rinse black beans and set aside.
Put 1/4" of fry oil in a large pot or cast iron pan. Preheat over medium heat..
When chicken hits internal temperature of 150°F, up grill temperature to 300°F. Chicken does not accept smoke flavoring after 150°F, so you can up the temperature to finish..
Warm the Tortilla for easy wrapping. Put plastic wrap over plate and put in microwave for 30 seconds..
Cut chicken into strips, then assemble Tortilla. Place black beans, Avocado crema, chicken and Shredded Monterey jack cheese..
Fold tightly and use a toothpick to keep Tortilla from unfolding. Fry all sides in oil until golden brown (about 10 seconds per side).
Remove Toothpicks and place wrap seam-side down. Place a small dollop of sour cream, then Avocado crema and a stem/leaf of cilantro on top. Let it sit for 1 minute to cool and serve..