Chicken Fajita Stuffed Peppers. Chicken Stuffed Peppers are made with a fajita style mixture that combines onions, garlic, tex mex spices and chicken, then oven-baked until soft and cheesy. These chicken-stuffed peppers feature a delicious blend of savory ingredients that closely resemble the flavors of chicken fajitas. The chicken and bean filling fits neatly into a nice, sweet pepper half with a cheesy topping.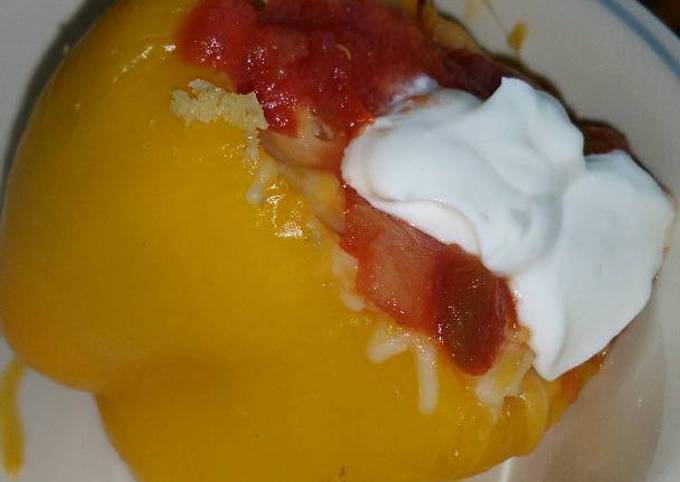 Lay the bell pepper halves in the skillet, like little cups, and fill them with the rice/chicken mixture. Here is a healthy entree that takes a little bit of extra time, but it's is well worth it in the end. These chicken stuffed peppers are filled with so much goodness, and they are basically a full meal in one because you get three veggies (corn, onion and peppers), a whole grain (brown rice), two proteins (black beans and chicken) and a fruit (tomatoes). You can have Chicken Fajita Stuffed Peppers using 11 ingredients and 6 steps. Here is how you achieve it.
Ingredients of Chicken Fajita Stuffed Peppers
You need 4 of large green bell peppers.
It's 2-1/2 c of riced cauliflower.
Prepare 8 oz of boneless chicken breast, pounded to 1/2" thickness.
You need 1/4 tsp of ground cumin.
You need 1/4 tsp of chili powder.
Prepare 1/4 tsp of garlic powder.
Prepare 1/4 tsp of salt.
It's 1/2 c of chopped onion.
You need 1/2 c of shredded reduced-fat Mexican-blend cheese.
Prepare 1/4 c of fat-free plain Greek-style yogurt.
It's 1/4 c of salsa.
How To Make Chicken Fajita Stuffed Peppers. Cut the bell peppers in half, lengthwise, and remove all the seeds and membrane. Place halved green bell peppers in a baking dish. Cook chicken in a large skillet over medium heat.
Chicken Fajita Stuffed Peppers step by step
Preheat oven to 350°F..
Slice stem top of peppers and remove seeds. Place cut side up in deep baking dish, leaning against sides if needed. Bake until tender, 20-30 min..
Combine cumin, chili powder, garlic powder and salt. Set aside..
Spray large skillet with cooking spray and heat on med. Season chicken using half of the seasonings. Cook in skillet until cooked through, about 4 min. on each side. Transfer to cutting board and chop into small pieces..
Remove skillet from heat and wipe clean. Re-spray and bring to med. heat. Add cauliflower, onion and remaining seasoning. Cook and stir until almost tender. Add in chicken and finish cooking veggies..
Blot away excess moisture from peppers. Fill with chicken mixture. Sprinkle on cheese. Top with salsa and yogurt..
Season with paprika, chili powder, cumin, salt, and lime juice. Place a cast iron or nonstick skillet over medium-high heat. Add the cooked onions, corn, beans, and tomatoes to the pan, stir and cook for one minute. Heat the canola oil (for the veggies) in a pan over high heat. Cook the peppers, onion, salt, and pepper until soft and slightly caramelized.