Creamy Chicken and Rice. In a medium saucepan melt butter or margarine and stir in flour until smooth. Gradually add milk, bouillon granules, seasoned salt, garlic powder and pepper. Stir all together and bring to a boil.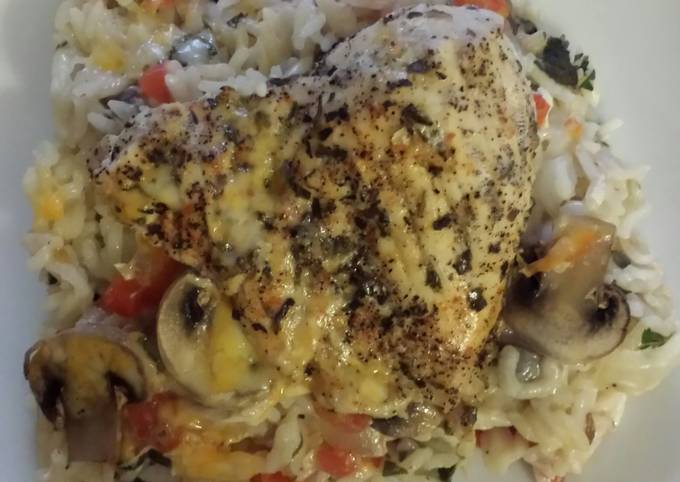 Mix chicken stock, condensed soups, melted butter, salt, and pepper together in a bowl. Spread rice on the bottom of the prepared baking dish. In a large pot over high heat, combine the celery, onions, rice, bouillon, broth and water and bring to a boil. You can have Creamy Chicken and Rice using 12 ingredients and 5 steps. Here is how you achieve it.
Ingredients of Creamy Chicken and Rice
Prepare 1/2 cup of white rice.
You need 6 oz of cream of mushroom soup.
It's 4 oz of chicken breast.
You need 3 tbsp of shredded cheddar.
You need 1 of portabella mushroom.
It's 1/8 cup of diced tomato.
You need 1/8 cup of diced onion.
You need 10 of fresh cilantro.
You need 2 tsp of basil.
You need 2 tsp of thyme.
It's 2 tsp of ground black pepper.
It's 2 pinch of cayenne pepper.
Remove from heat and set aside. In a medium saucepan over medium heat, melt the butter or margarine. This creamy chicken and rice with veggies takes only one pan and is a entree the whole family will enjoy. One thing I've loved about being home more is getting back to the basics of cooking dinner.
Creamy Chicken and Rice instructions
Preheat oven to 325°F.
In small mixing bowl, combine white rice and cream of mushroom soup. Take small pan (5"×10" or smaller) and evenly spread mixture evenly across bottom..
In this order, dice and spread cilantro, tomato, mushroom, and onion evenly sprinkle over rice..
Combine basil, thyme, ground black pepper, and cayenne pepper. Take chicken breast and coat both sides with seasoning mixture. Place chicken breast, centered and on top of the fixings, in the pan..
Sprinkle cheese over top, and cover pan with aluminum foil. Place in oven and cook for 40 minutes..
Just cooking dinner to cook dinner. Cook chicken in skillet, adding garlic near the end. Add in rice, chicken broth and thyme and season with salt and pepper. Bring mixture to a boil then cover and simmer until liquid has been absorbed and rice is nearly tender. Stir in peas and cream, cover and cook until rice is fully tender.