Fried Rice with Chicken and Eggs. A lot of cold dishes, let's use it for fried rice. Melt butter in a large skillet over medium low heat. Remove from skillet and cut into shreds.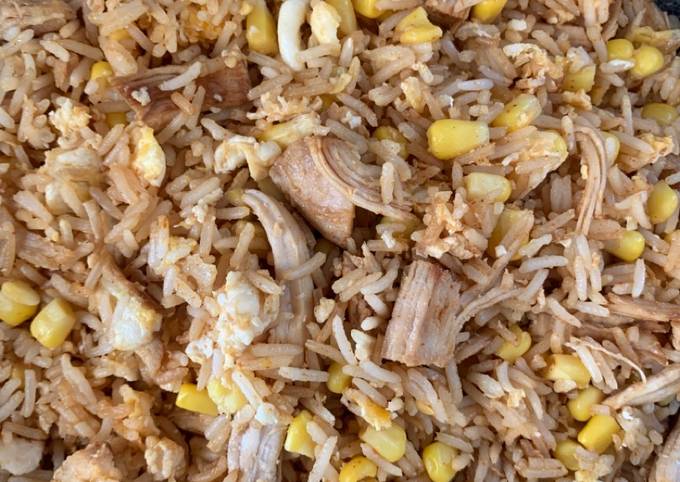 Add the cooked rice, shredded chicken, frozen peas, frozen sweetcorn, red pepper and spring onions. Add the chicken, rice, soy sauce and sweet chilli and stir to combine. Cook for about two minutes, or until chicken is reheated through. You can make Fried Rice with Chicken and Eggs using 9 ingredients and 7 steps. Here is how you make that.
Ingredients of Fried Rice with Chicken and Eggs
Prepare 125 g of rice.
You need 2 of big eggs.
Prepare 100-150 g of chicken.
Prepare 1-2 of teeth of garlic.
It's 1 of small can of corn (can also use frozen veggies mix, but i mostly like corn).
It's of Soya sauce.
You need of Olive oil.
It's 1 pinch of smoked paprica.
You need of Chives.
Stir in chicken, salt and pepper. Add eggs and vegetables; heat through, breaking eggs into small pieces and stirring to combine. Melt butter in a large frying pan over medium low heat. Remove from frying pan and cut into thin strips.
Fried Rice with Chicken and Eggs instructions
Cook chicken until done, cut in pieces or separate with fork (depends what meet are you using, breast or tights).

In the separate pot cook rice, set aside..
On the pan or wok add a little bit of olive oil and chicken, fry until gets a little golden, add a little bit of soya sauce and garlic..
Add rice to the pot, and fry until it's get a little bit of color..
Add veggies of your choice and let it cook for couple of minutes.
Make some space and add eggs inside, wait until it's almost done and break it in pieces, mix well.
Add soya sauce, smoked paprika and chives. Stir well..
Heat oil in same frying pan; add onion and saute until soft. Then add rice, soy sauce, pepper and chicken. Stir in the rice, sauce mixture, eggs and roast pork until well mixed. Plate and drizzle with sesame oil, to taste. Cooking Fried Rice: Cook in a skillet: In a large skillet or wok, add vegetable oil and soy sauce.