Super Easy Golden Fried Rice with 1 Egg. Toss in the vegetables, and continue stir-frying. Once the rice grains are dry and start to pop around in the wok, taste and add an additional pinch of salt if needed. (A pinch of extra salt really brings out the flavor of this golden fried rice.) Stir in the scallions. Note: I used brown rice here which did not dull the brillant yellow hue of the fried rice.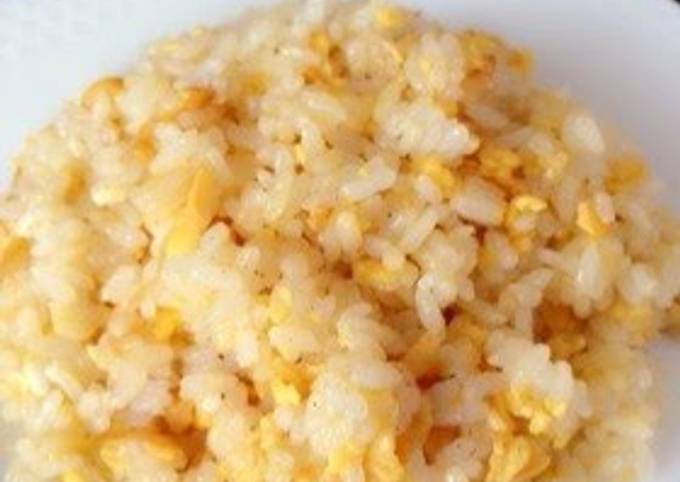 You can also add other ingredients, such as corn, peas, and carrots. When you are hungry, come a bowl right away, is it particularly satisfying? ? Cook the egg quickly in the pan with just enough butter to stop it sticking. You can make Super Easy Golden Fried Rice with 1 Egg using 6 ingredients and 4 steps. Here is how you achieve that.
Ingredients of Super Easy Golden Fried Rice with 1 Egg
It's 1 of Egg.
Prepare 1 of serving Cooked white rice.
It's 1 tbsp of Vegetable oil.
It's 1 dash of Salt and pepper.
It's 2 tsp of Chicken stock granules.
Prepare 1 tsp of Sesame oil.
As soon as it is cooked put it on the side. Add the soy sauce and brown sugar into the rice and mix in the bowl. Add the butter and fry the onions, stirring occasionally until the onions turn a little translucent. Sin begins by making traditional golden fried rice, which he explains involves coating the rice in egg yolks before stir-frying.
Super Easy Golden Fried Rice with 1 Egg instructions
These are all the ingredients you need for this dish. As long as these are prepared, you'll only need 3 minutes to cook it up..
Heat the vegetable oil in a frying pan and add the beaten egg. Cook until soft-set as shown in this photo — try not to mix or shake it around..
Immediately add the rice. Mix with a spatula over medium heat. The egg should coat the rice, making it dry and fluffy..
Once it's dry and fluffy, season with salt, pepper, and chicken stock granules. Drizzle on the sesame oil and it's done!.
You want every grain to be covered in a thin layer of egg, which. Swirl to coat base of wok. Repeat with oil and egg mixture. Add remaining oil to same hot wok. Add rice mixture, onions, ham, capsicum and peas.