My Homemade Chicken and Noodles. Used Swansens Natural goodness chicken broth. Refrigerate broth and chicken for several hours or overnight. For noodles, in a small bowl, combine flour and salt.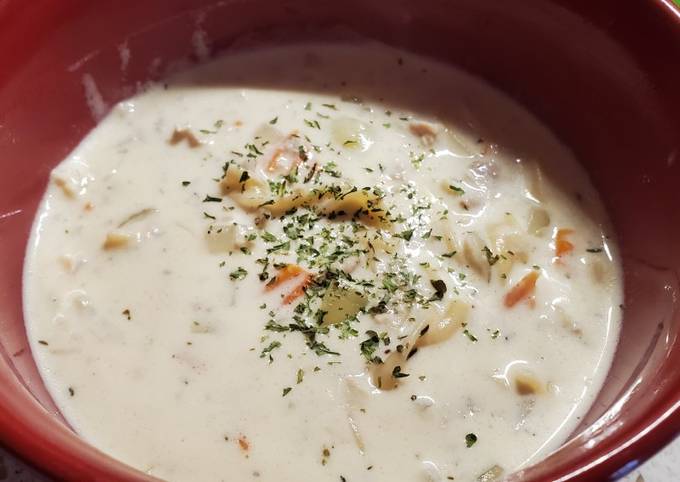 Add the chicken broth to the stock pot & bring broth & water to a boil. Add noodles & whatever flour is with them to the boiling pot. Add the shredded chicken & stir gently. You can make My Homemade Chicken and Noodles using 19 ingredients and 5 steps. Here is how you make it.
Ingredients of My Homemade Chicken and Noodles
You need 5 of boneless chicken thighs.
You need 3 cups of water.
Prepare 1 1/2 tbsp of chicken soup base.
Prepare 1 of medium yellow onion (finely chopped).
Prepare 2 of carrots chopped.
It's 4-5 cloves of garlic (I use about 8 cloves🤷‍♀️.).
You need of Dairy.
It's 1 (8 oz) of block cream cheese.
Prepare 1 1/2 cups of heavy whipping cream.
It's of Seasonings.
It's 1/8 tsp of celery seed.
You need 1/2 tsp of dill weed.
You need 1/8 tsp of black pepper.
You need 1 tsp of parsley flakes.
You need 1/2 tsp of ranch seasoning.
It's 1 tsp of dried thyme.
It's 1 tbsp of fresh lemon juice.
Prepare of For the Noodles See My Egg Noodle Recipe.
It's of Or add 1½-2 cups egg noodles.
Add the cream of chicken soup & stir well. While chicken is cooking, make noodles. In a large bowl, combine eggs, water, oil, salt and enough of the flour to make a stiff dough. Strain chicken stock, reserving meat, celery and carrots.
My Homemade Chicken and Noodles step by step
In a large pot, heat the butter over medium-high heat. Add the onion, carrots, and celery. Cook until vegetables are tender about 5 minutes. Add the garlic and cook for 2 more minutes..
In food processor pulse your chicken to shred or shred by hand..
Pour in heavy whipping cream and milk. Stir in the chicken broth. Add the shredded chicken, ranch seasoning, celery seed, dill weed, thyme and cream cheese. Season with salt and pepper..
Bring the soup to a low boil and stir in the egg noodles. Cook for 10 minutes, stirring occasionally, or until noodles are soft. Stir in the heavy cream, lemon juice, and parsley. Taste and add additional salt and pepper, if necessary. (see recipe).
Ladle the soup into bowls, top with parsley and serve warm..
Pull meat from bones and return strained stock and meat, celery and carrots to pot. Remove the chicken from the pot. Set the chicken aside to cool briefly. Stir to combine and simmer for ten minutes to meld flavors. Increase heat and add frozen egg noodles and chicken.