Healthy Egg and Salad Avocado Sandwich. Scoop the flesh from the avocado half into a medium bowl. Add lemon juice and oil; mash until mostly smooth. Add chopped eggs, celery, chives, salt and pepper and stir to combine.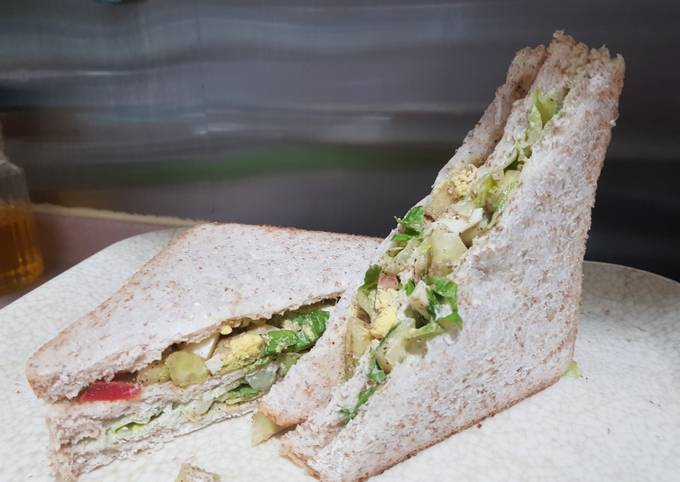 Because I calorie count I need quick and easy meals. I love being able to have a satisfying lunch or dinner and quickly calculating the calories. Layer it on toast or turn it into a sandwich recipe the entire family will love. You can have Healthy Egg and Salad Avocado Sandwich using 5 ingredients and 3 steps. Here is how you make it.
Ingredients of Healthy Egg and Salad Avocado Sandwich
Prepare 1 of hard boiled egg.
It's Half of chopped cucumber.
It's Half of chopped tomato and lettuce.
You need of Black pepper (as per taste).
Prepare of Chat masala (optional).
In a small bowl, whisk together the mayonnaise, yogurt, mustard, lemon zest, lemon juice and vinegar. Pour the mixture over the eggs and then add the capers, celery, green onion and avocado. How to make Avocado Egg Salad Sandwich. Add water to a small saucepan.
Healthy Egg and Salad Avocado Sandwich instructions
Take 1 egg (Hard boiled) and chop it.Wash and cut all the vegetables and put in a plate..
Add everything including chopped egg in a mixing bowl. And add 1.5 tsp black pepper (as per taste) 1 tsp of chaat masala (optional) and mix well..

Take 3 bread slices (wheat is best) with or without crust. Apply and spread the avocado spread on top of the bread slice as much as you like.(simply add avocado to the sandwich if the spread is not available) Now place the prepared egg salad on top of your bread slice as required..
When eggs are cooked, run them under cold water and break off the shells. Cut the eggs into small pieces. Using avocado as a substitute for mayonnaise, this healthy boiled-egg salad sandwich recipe is packed with protein, healthy fats, and fibre for a filling, balanced meal. The base recipe is both gluten- and dairy-free. There are a million ways to make hard-boiled eggs for this healthy egg salad recipe, but I'll share my favorite.