Garlic and Pepper Seasoned Chicken Breast with Lemon. Pepper And Lemon Mixed With Chicken Make For A Delicious Combination. Easy Chicken Recipe Made With Lemon & Pepper Seasoning. Cut the butter into slices and place the butter slices in a baking dish.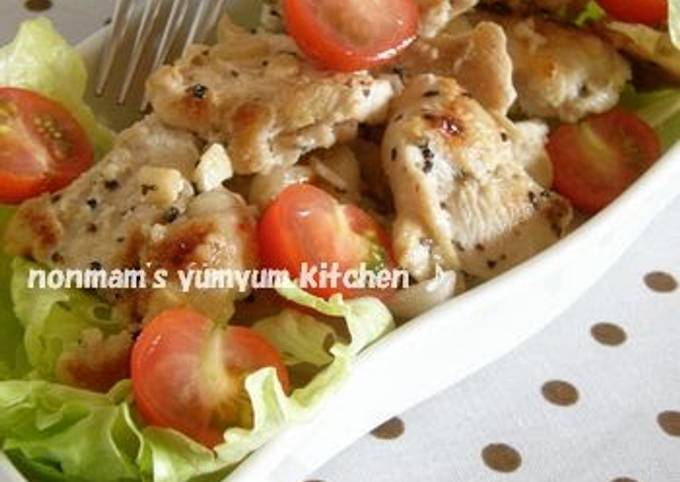 Add the garlic, thyme, and lemon juice to the dish and mix it well. Add chicken broth and lemon juice; bring to a boil. Skin-on, Bone-in Chicken thighs seasoned with lemon-pepper seasoning, baked to perfection and served with the delicious, cheesy, garlic-lemon cream sauce! You can have Garlic and Pepper Seasoned Chicken Breast with Lemon using 8 ingredients and 3 steps. Here is how you achieve it.
Ingredients of Garlic and Pepper Seasoned Chicken Breast with Lemon
It's 2 of Chicken breast.
You need 1 of and 1/2 tablespoon ○Garlic powder.
You need 2 tsp of ○Black pepper.
You need 2 tsp of ○Lemon juice.
It's 2 tsp of ○Salt.
You need 1 tbsp of ○Cooking sake or white wine.
You need 1 clove of Garlic.
It's 1 tbsp of Olive oil.
Perfect recipe for a busy weeknight. Add the lemon zest mixture to the butter and stir with a fork until the all the ingredients are evenly mixed. Cut the lemons into quarters and place them in the. Place the olive oil, Italian seasoning, garlic, lemon juice, lemon zest, honey and salt and pepper in a resealable gallon-sized freezer bag.
Garlic and Pepper Seasoned Chicken Breast with Lemon step by step
Pierce the chicken with the tip of your knife, then cut into bite-sized pieces. Rub in the ingredients labeled ○ and set aside..
Add olive oil to a heated frying pan. Cook the minced garlic on low until it's fragrant, then brown the chicken over low-medium heat on both sides until golden brown..
Garnish with a wedge of lemon or squeeze on a couple drops of lemon juice (optional) and serve. ♪.
Place the chicken in the bag. Seal the bag and move the chicken around to coat in the marinade. Rub the chicken breasts with lemon pepper and garlic powder. Heat your oil in a large heavy-bottomed oven-proof skillet over medium-high heat. Add in the ghee or clarified butter, broth, freshly squeezed lemon juice, and zest.