Garlic ranch chicken tenders. Mix panko and Seasoning in a shallow dish. Moisten chicken with milk in a separate shallow dish. Coat chicken evenly with panko mixture.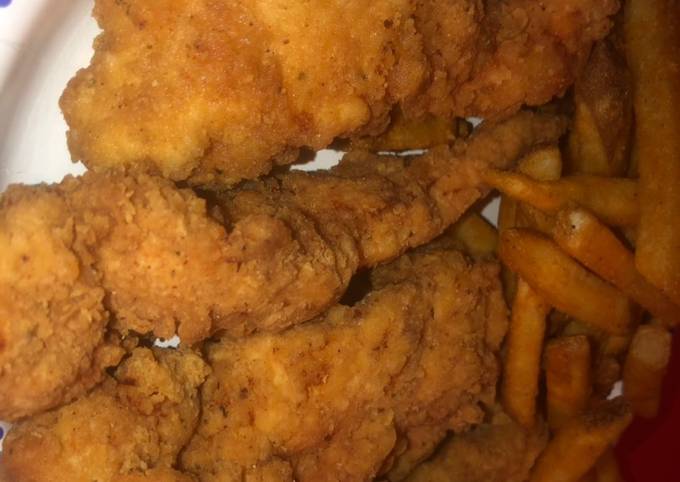 Place chicken in bread crumb bag; seal and shake to coat. In a shallow bowl, combine milk and garlic. In another shallow bowl, combine the flour, salad dressing mix and pepper. You can have Garlic ranch chicken tenders using 9 ingredients and 2 steps. Here is how you make it.
Ingredients of Garlic ranch chicken tenders
It's 2 of chicken breasts cut in half to thin them and cut into 1 inch wide strips.
You need 4-5 of eggs.
It's 2 tablespoons of heavy cream.
It's 1 tablespoon of ranch seasoning.
It's 1/4 teaspoon of black pepper.
You need 1/4 teaspoon of paprika.
It's 1/4 teaspoon of onion powder.
It's 1/4 teaspoon of garlic powder.
It's 1/4 teaspoon of Italian herbs.
Dip chicken in milk mixture, then coat with flour mixture. Lightly oil a baking sheet or coat with nonstick spray. Place ranch dressing mix in a small bowl. Whisk egg and milk together in a second bowl.
Garlic ranch chicken tenders instructions
Heat fryer or 2 inches of oil to 350. Cut chicken as directed. Mix spices in with flour..
Dip chicken strips into flour then egg then flour and fry until golden brown and they float or until internal temp is 165 degrees..
Place bread crumbs in a third bowl. Dredge each chicken strip in ranch dressing mix, then coat in egg mixture and cover with bread crumbs; arrange in the prepared baking dish. Combine the egg and the lemon juice. In a separate bowl, combine the panko bread crumbs, Parmesan, garlic powder, lemon zest, salt, and pepper. Coat the chicken tenders in flour and shake off any excess.