Table Of Content [
Close
]
Popsicle Smoothie. Next, pour the blended mix into a popsicle mold and place a popsicle stick into the center. If you don't own a popsicle mold, pour the smoothie mixture into small paper or plastic cups, or even a wide ice cube tray for bite size treats that can be enjoyed with a spoon or on a stick. Very Berry Smoothie Popsicle: frozen berry mix; vanilla yogurt; vanilla almond milk; Just Peachy Smoothie Popsicle: peaches; vanilla yogurt; orange juice; Directions: First, make sure you're using a silicone popsicle mold.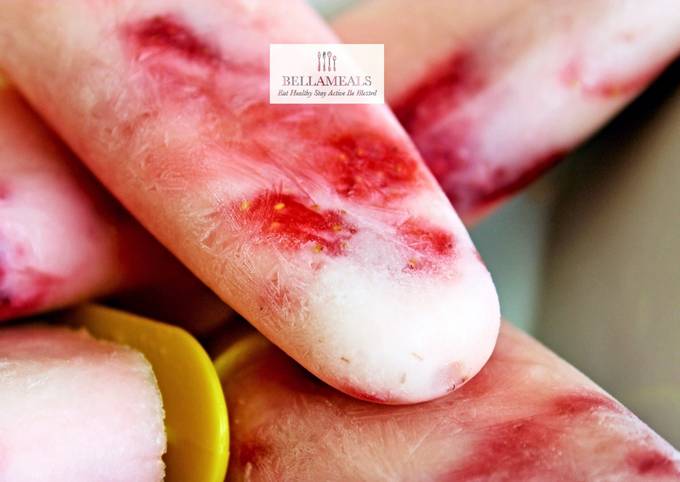 Green smoothie popsicle: make a spinach smoothie, per my green smoothie recipe. Or keep it simple, with spinach, pineapple juice, and protein powder. Peanut Butter-Banana smoothie popsicle: Banana is the fruit for this smoothie, and milk instead of juice for sure. You can make Popsicle Smoothie using 4 ingredients and 1 steps. Here is how you make it.
Ingredients of Popsicle Smoothie
You need 1 cup of Vanilla Greek yogurt.
It's 3 tbsp of Greek yogurt (vanilla).
Prepare 1/2 tbsp of Stevia.
It's 3 large of Fresh strawberries.
A flavor burst of peanut butter. Fruit Smoothie Popsicles are one of our favorite summer treats! They combine all the flavors of a fruit smoothie with all the fun a popsicle. Made with just three simple ingredients, these fruit smoothie popsicles come together in minutes and make a delicious breakfast, snack, or after dinner treat.
Popsicle Smoothie step by step
Mash strawberries with fork (roughly) you still want chunks. Add strawberries to pineapple juice and also add yogurt. Whisk . Then add to Popsicle container . Freeze over night . Watch video on YouTube.com/bellameals Instagram @bellameals.
Making your own green smoothie popsicles is super easy, and you don't even need fancy molds to make them (though fun popsicle molds make for a good summer splurge!). All you need to make your own molds is a set of paper cups and popsicle sticks. I decided to try out freezing the extras in popsicle molds to see what would happen. Turns out the kids love them! So basically you can make two snacks with one recipe!