Summer fruits smoothie bowl. Let food take care of you with Daily Harvest's smoothies shipped to your door. Built on organic fruits and vegetables and packed with farm-frozen superfoods. This smoothie bowl combines some of our favorite summer fruits that'll be sure to put your tastebuds into a summer state of mind!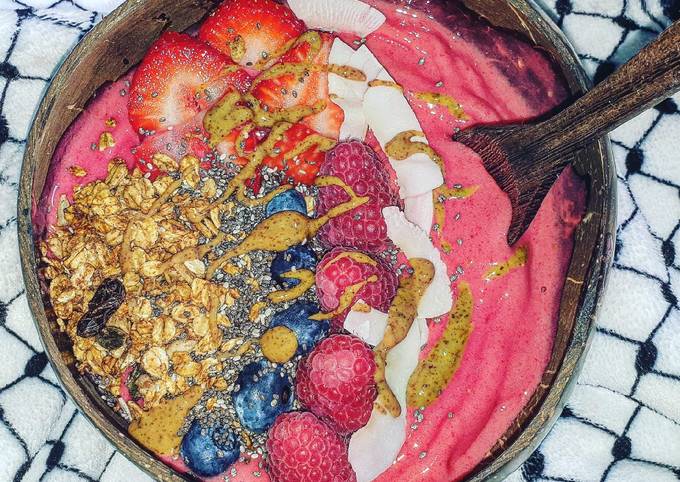 During the spring and summer months, smoothies bowls become a staple in my diet. They are super easy to make, cold and refreshing during the warmer months, packed with healthy fruits, look so darn pretty, and taste amazing! Smoothie bowls and HP Instant Ink are time saving options that also turn out to be sanity savers! You can make Summer fruits smoothie bowl using 12 ingredients and 1 steps. Here is how you make that.
Ingredients of Summer fruits smoothie bowl
It's 1 cup of frozen raspberries.
You need 1 cup of frozen strawberries.
You need 1 of frozen banana.
It's of coconut milk.
It's of toppings.
It's of chia seeds.
Prepare of blueberries.
You need of sliced strawberries.
It's of raspberries.
You need of granola.
Prepare of flaked coconut.
It's of almond butter.
Add smoothie bowl ingredients to a blender and blend until smooth. Top with any toppings of choice and serve. For all smoothies, make sure frozen ingredients are slightly thawed before blending. Add smoothie ingredients to blender and blend until smooth and creamy.
Summer fruits smoothie bowl instructions
Place all the ingredients into a blender adding splashes of coconut milk till smooth and a thick consistency and then add toppings and enjoy.
These fresh fruit smoothie bowls make the perfect summer breakfast or lunch idea. I used fresh strawberries, pineapple, and blueberries, but you can use whatever fresh fruit you would like to make these easy fresh fruit smoothie bowls. On a summer's morning, when the sky is a clear, endless blue and the sun is already beating down to warm your skin, what makes a better breakfast than a sweet, refreshing frozen fruit smoothie bowl? Nothing, is the answer to that. When smoothie bowls first became trendy on Instagram, I'm going to be honest: I wasn't sold.