Pasta with Zucchini and Ricotta. While pasta cooks, warm a serving bowl and put ricotta in it, along with about half the basil. Add cooked pasta to zucchini in skillet and turn heat to medium-high. Add a little more pasta water if necessary.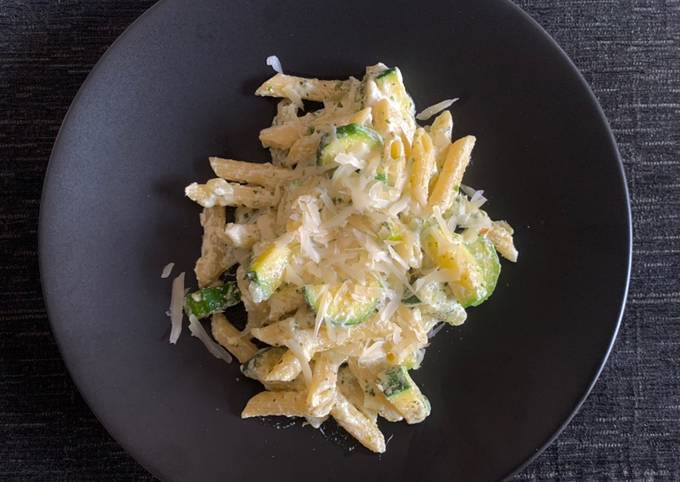 Add oil, lemon zest, and zucchini and toss to combine. A one-pot pasta that strikes that hard-to-find balance between creamy and light, this meatless meal is satisfying without weighing you down. Fresh ricotta is the base for a silky and comforting cheese sauce, and zucchini brings texture, color and flavor that complement the pasta. You can have Pasta with Zucchini and Ricotta using 12 ingredients and 11 steps. Here is how you make it.
Ingredients of Pasta with Zucchini and Ricotta
Prepare 1 of Onion.
Prepare 6 Tablespoons of Olive Oil.
You need 3 of Medium Zucchini.
Prepare of Salt.
Prepare of Ground Black Pepper.
It's 1 Pound of Dry Pasta.
Prepare 2 Cups of Fresh Basil Leaves.
You need 2 of Large Cloves or Garlic.
Prepare Pinch of Crushed Red Pepper.
You need 10 Ounces of Ricotta.
It's of Zest of 2 Lemons.
It's 1 Cup of Parmesan Cheese, grated.
Finish the dish with basil and lemon juice at the end of cooking for a bright pop of flavor that makes this dish. In a large bowl, stir together the pasta, zucchini, marinara sauce, and ricotta. Pour into a baking dish sprayed with cooking spray. Season with salt and pepper and toss to combine.
Pasta with Zucchini and Ricotta instructions
Finely dice onion..
Wash, dry and slice zucchini, first lengthwise, then in 1/4-inch slices..
Mince garlic..
Heat 3 tbsps of olive oil in a large pan. Add onions and cook at medium temperature for 5 minutes..
Add zucchini and cook for 10 minutes. Then add crushed red pepper..
Meanwhile heat up water. Add a couple of generous pinches of salt. When water boils, add pasta and cook according to instructions..
In a mini food processor combine garlic, basil, a punch of salt and 3 Tbsps of olive oil until smooth..
Add cooked pasta and 1 cup of pasta water to zucchini. Mix and cook for 1 minute..
Add ricotta, crushed red pepper and lemon zest. Mix well. Turn off heat..
Add basil paste and 1/2 cup of parmesan. Mix well..
Serve on plate and sprinkle more parmesan..
Drizzle in olive oil to taste. Bring a large pot of generously salted water to a boil and drop the pasta in. Put a large sauté pan over a medium flame and heat the oil. Add the ricotta to the pan and stir with a. Spread a third of the spaghetti sauce in.