Baked Stuffed Zucchini. Looking for an Easy Recipe Tonight? Try a Recipe From Hidden Valley® Ranch. Try a Delightful Zucchini Dish with Easy Recipes from Hidden Valley® Ranch.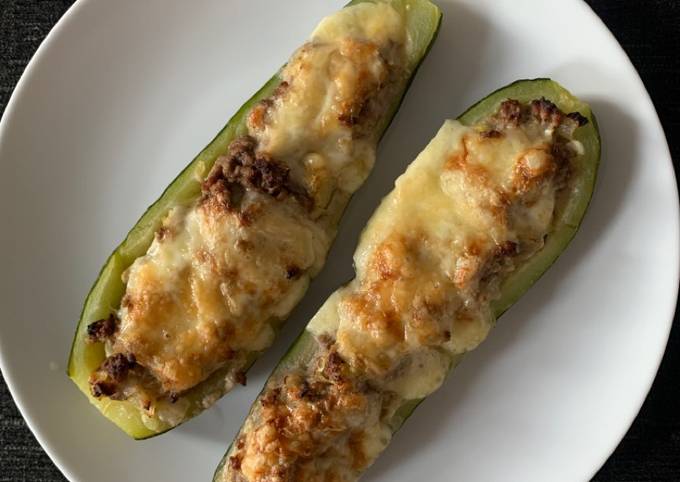 Trim stems from zucchini and slice lengthwise. Scoop out seeds and put in a bowl. Mix seeds with sausage, garlic, bread crumbs, and Parmesan cheese. You can have Baked Stuffed Zucchini using 13 ingredients and 10 steps. Here is how you achieve that.
Ingredients of Baked Stuffed Zucchini
You need 6 of large zucchini.
You need 1 tablespoon of vegetable oil.
You need 1 of large onion.
It's 1 pound of lean ground beef.
Prepare 1 teaspoon of oregano.
Prepare of Salt.
You need of Ground black pepper.
Prepare 1 of egg.
You need 1/4 cup of milk.
You need 1 cup of cubed bread.
Prepare 1 tablespoon of Worcestershire sauce.
You need 1/2 cup of Parmesan cheese.
You need of Gruyère cheese (or fontina or mozzarella).
Bring a large pot of water to a boil. Cut both zucchini in half and scoop out the seeds. Remove from the water and set on a baking sheet while preparing stuffing. Cut each zucchini in half lengthwise and scoop out pulp, leaving about ¼-in shells.
Baked Stuffed Zucchini instructions
Cut ends of zucchini and then lengthwise in half..

Boil in lightly salted water until it starts softening (10 minutes). Remove from water. Let cool..
Meanwhile, dice onion and sauté in oil at medium temperature until it starts to become transparent (10 minutes)..
Add beef, oregano, salt and black pepper, and cook until there's no red/pink. Let cool..
In a large bowl beat eggs. Add milk. Add bread and let it absorb the liquid for 10 minutes. Break apart the bread with your fingers..
Preheat oven at 400 degrees F..
Remove pulp of boiled zucchini with a spoon, drain pulp and chop it..
Add zucchini pulp, sautéed onion, beef, Parmesan and Worcestershire sauce to the bread mixture. Mix well..
Arrange zucchini halves skin down on a baking sheet with parchment paper. Fill them with mixture..
Add slices of Gruyère on each zucchini half. Bake for 30 minutes or until cheese browns. Wait 10 minutes before serving..
Bring a large pot of salted water to a boil. Scoop out the flesh of the zucchini, making a 'boat'. In a medium bowl combined zucchini flesh, bread crumbs, Cheddar cheese, onion, parsley, salt, most of the Parmesan cheese and egg. Halve zucchini lengthwise; scoop out seeds. Spoon remaining tomato sauce over each.