Vegan Philly "Cheesesteak" Fried Wontons With Creamy Avocado Sauce 𝓥 (𝙿𝚕𝚊𝚗𝚝 𝙱𝚊𝚜𝚎𝚍 𝙼𝚊𝚖𝚊𝚜🌿). Here is how you do that. Miso Mushroom Ramen with Vegetarian Wontons and Crispy Tofu. Fold the wonton in half, corner to opposite corner, making a triangle; Seal tightly, gently squeezing out the air while being careful not to tear the wonton; Fold the longer two triangle points together and seal to make the wonton shape; Place the folded wonton on a clean, dry baking.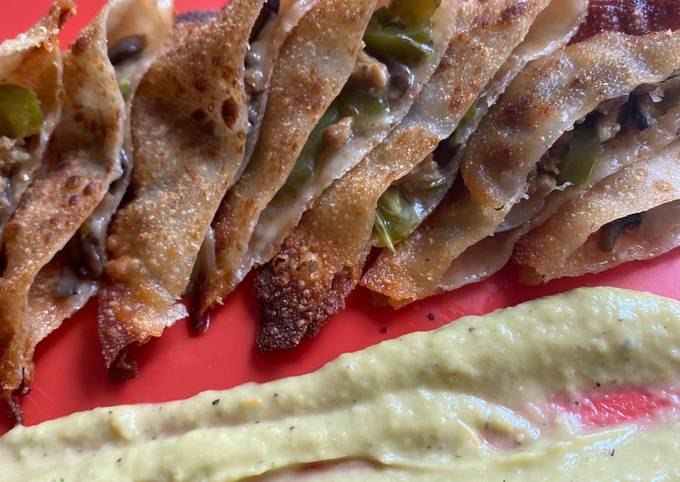 You can have Vegan Philly "Cheesesteak" Fried Wontons With Creamy Avocado Sauce 𝓥 (𝙿𝚕𝚊𝚗𝚝 𝙱𝚊𝚜𝚎𝚍 𝙼𝚊𝚖𝚊𝚜🌿) using 18 ingredients and 11 steps. Here is how you make it.
Ingredients of Vegan Philly "Cheesesteak" Fried Wontons With Creamy Avocado Sauce 𝓥 (𝙿𝚕𝚊𝚗𝚝 𝙱𝚊𝚜𝚎𝚍 𝙼𝚊𝚖𝚊𝚜🌿)
You need of Filling.
Prepare of 1 green bell pepper.
Prepare of 1/2 large white onion.
Prepare of 3 pieces of Beyond Breakfast Sausage (Beyond Meat).
You need of Salt & Pepper to taste.
You need of Nasoya wonton wraps.
You need of Vegetable oil.
It's 1 package of sliced white mushrooms.
You need of "Cheese" Sauce.
Prepare of Violife "Just Like Feta" -100% Vegan Cheese.
Prepare of Tbsp unsweetened almond milk.
Prepare of Creamy Avocado Sauce.
It's of 1 ripe avocado.
You need of Salt & pepper (to taste).
You need of Fresh cilantro (to your liking).
You need of 1 small plum tomato.
It's of Tbsp garlic.
Prepare of 1 spoonful of Greek yogurt.
Vegan Philly "Cheesesteak" Fried Wontons With Creamy Avocado Sauce 𝓥 (𝙿𝚕𝚊𝚗𝚝 𝙱𝚊𝚜𝚎𝚍 𝙼𝚊𝚖𝚊𝚜🌿) step by step
Wash and chop your bell peppers, mushrooms, and onions. Set them aside..
Oil a pan, and on medium heat, sauté your beyond breakfast sausage for 5-6 minutes. (I use the sausage for flavor and added texture) Crush the sausage up like ground meat in the pan..
Add your prepped veggies into the same pan and raise the temperature to high. Fully mix the vegetables and breakfast sausage together as the cook. Season with salt and pepper to your liking. This should only take a few minutes. (You don't want your vegetables to be mush.).
Turn the heat off, put a lid on your "steak" filling and set the pan aside..
In a nonstick pan, add 1/2 of the Violife Vegan Feta and a tbsp of unsweetened almond with to thin it out a bit. You want a velvety texture. You can adjust it by adding more cheese if you prefer a thicker sauce. (Keep the pan on low so it doesn't resolidify during the wonton assembly).
Heat a pan of vegetable oil up to 350 degrees or until bubble for around a chopstick when you dip it in the pan. (If you have a deep fryer that works too).
While the heat is warming up, let's assemble the wontons. Place a small spoon of the "steak" filling and top with the melted vegan feta. Don't overfill, we don't want the to explode in the oil. Line the wonton with a bit of water, place another wonton wrap on top and press down to seal. Almost like making ravioli..
Fry your wontons in small batches until golden on each side. They cook FAST so keep and eye on them..
When done, place them on paper towel or a baking rack to drain off the access oil. I find that the baking rack method leaves you with more crispy wontons. The paper towel way makes them a little softer. Either way they taste GREAT..
Blend together avocado, tomato, salt&pepper to your liking, cilantro to your liking, garlic, and Greek yogurt. Blend until it's combined and has a creamy consistency. Pour in a lidded bowl..
Plate your wontons, your dipping sauce, and enjoy!.