Chicken Teriyaki with Broccoli. On medium heat in a cast-iron skillet brown chicken in oil until cooked on all sides and slightly crispy. *If pan isn't hot enough the chicken will steam so make sure pan is hot but not burning.*. Add chicken back to the wok, stirring occasionally, cook chicken and sauce on medium-high heat until sauce thickens and chicken is fully cooked. In this easy Japanese favorite stove-top meal, the chicken teriyaki stir-fry is paired with a side of broccoli for a burst of color and steamed rice to capture the sauce.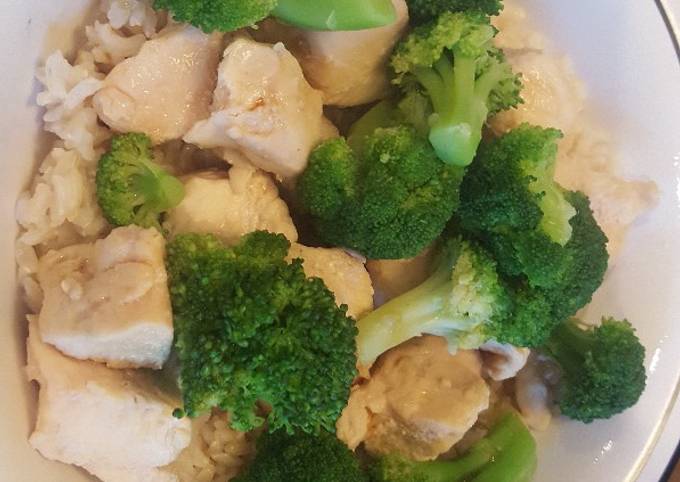 Bring a medium pot of water to a boil and add the broccoli. In a skillet, brown chicken on both sides with vegetable oil over medium high heat. Preheat grill to a medium-high heat. You can have Chicken Teriyaki with Broccoli using 7 ingredients and 4 steps. Here is how you achieve that.
Ingredients of Chicken Teriyaki with Broccoli
Prepare 2 of medium cloves of garlic minced.
It's 1 pound of boneless skinless chicken breast cut into 1" cubes.
It's 4 of medium uncooked scallions.
It's 1/2 cup of chicken broth.
It's 2 tbls of teriyaki sauce.
You need 2 cups of cooked brown long grain rice.
Prepare 4 cups of broccoli steamed.
Cook chicken over direct heat, flipping once. Chicken is done when juices run clear. Add the broccoli florets and bell pepper to the same pan. Heat oil in cast iron pan or wok over medium/high heat.
Chicken Teriyaki with Broccoli step by step
Cook garlic in skillet with cooking spray, add chicken and cook until golden brown..
Add scallions and cook until soft, about 2 minutes..
Add broth and teriyaki sauce simmer until chicken is cooked through, about 5 minutes..
Put chicken mixture and broccoli over rice..
Add chicken to pan and brown sides. Panera's Teriyaki Chicken & Broccoli Bowl comes with chicken thighs and steamed broccoli in a sweet teriyaki glaze served over cilantro lime brown rice and quinoa and topped with sesame seeds and fresh cilantro. I modified the recipe because I'm on Weight Watchers – but the changes don't affect the flavor at all. As sauce simmers, in a small bowl, whisk together cornstarch and ¼ cup water. Place asparagus, broccoli, mini peppers, onion and scallions on a large rimmed baking sheet lined with aluminum foil; drizzle with ¾ cup of the teriyaki sauce, and toss to.