Table Of Content [
Close
]
Creamy Tomato Pasta. Just before draining, scoop out a mugful of pasta cooking water. Melt butter in large skillet over medium heat. In a saucepan, saute onion and garlic in olive oil over medium heat.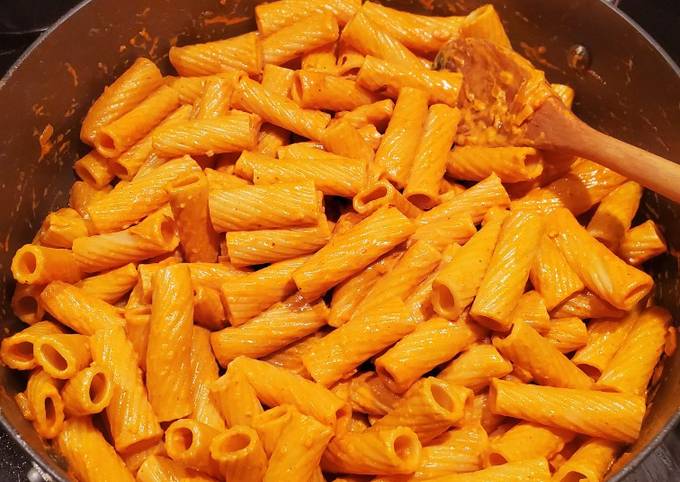 Carefully pour in the crushed tomatoes. Add the salt and pepper and stir to combine. Reduce heat to low and stir in the cream. You can have Creamy Tomato Pasta using 10 ingredients and 7 steps. Here is how you make that.
Ingredients of Creamy Tomato Pasta
It's 1 of whole box of noodles (any kind, I use rigatoni or shells).
It's 1/3 of medium sized yellow onion (minced).
It's 3 of large cloves of garlic (minced).
You need 1 cup of whipping cream.
Prepare 1 1/2 tbsp of tomato paste.
Prepare 1 teaspoon of paprika.
It's of Red pepper flakes.
Prepare 1 tbsp of salted butter.
It's 1/2 cup of pasta water.
You need of Salt and pepper for taste.
Boil a large, salted pot of water for your pasta and cook it al dente according to package instructions. Meanwhile (once the pasta starts to cook), add the butter to a skillet over medium-high heat. Once it melts, add the garlic and sauté for about a minute, stirring constantly. Add in the tomato paste, tomato sauce, cream, and Italian seasoning.
Creamy Tomato Pasta instructions
In a large pot, fill up about half way with water (salted) to a boil. Add noodles and cook until al dente.
While pasta cooks, mince the onion and garlic. In a large pan, add a drizzle of olive or grapeseed oil..
When pasta is finished, reserve pasta water in a measuring cup and set aside, then drain you pasta..
Turn pan on to medium high heat and add your garlic and onion. Cook for 4-5 minutes until onion is translucent..
Add tomato paste to the pan and saute with onions and garlic for about 1 minute until they are well mixed together. Careful not to burn the paste..
Turn down heat to medium low and stir in the whipping cream. Add the paprika and how ever much red pepper you would like (I like spicy so I am typically generous with the redpepper).
Add the butter to the sauce and mix until melted. Add the pasta to the pan and mix well so all the pasta is coated. Add pasta water to loosen the sauce. ENJOY!.
To make this pasta, you will need: Pasta – you can use any type of pasta that you like but I usually go for whole wheat pasta as it's healthier. Choose short pasta shapes such as penne or fusilli. Extra virgin olive oil – I normally use olive oil for the taste that it gives, but if you would like to keep this oil-free then saute the onion and the garlic. Pour in the tomato sauce, add sugar, salt and pepper to taste and stir. Cook the pasta according to the package directions.